GPRESIDENT ALUMNI'S MESSAGE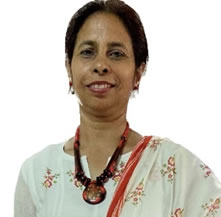 Alumni Association Saroop Rani Government College for Women (AASRGCW) is a link between the old and the new students. It is an endeavour with an aim to provide a platform for interaction of the alumni, faculty and students for the advancement of academic environment, an effort to strengthen the bond between the college and its alumna. The institute is proud of the fact that its alumni have excelled in various fields and professions and have earned fame for themselves and the college. Thus, making the college one of the premier and model institute of girls in the state.
Objectives
To connect alumni, current students, faculty associated with the college.
To strengthen ties between the institute and alumni and encourage their active participation in institute.
To encourage and support a spirit of community amongst its members.
To establish and maintain an alumni association.
To inculcate the feeling of social responsibility towards the Alma mater.
This association is proactive throughout the year and regularly takes structured feedback based on curriculum, infrastructural development and other aspects related to the institute. These feedback forms are then analysed and necessary measures are taken for the betterment of the institution and its functioning.
The institute is proud to mention the names of its well established and eminent alumni. To name a few the college record has Dr. Kiran Bedi, first IPS woman of India, Padam Shri Awardee Dr. Neelam Man Singh Chowdary, famous theatre personality, Kanchan Chaudhary Bhattacharya, second IPS woman in India and first DGP of the state, Ritu Kumar, a world- famous dress designer, Dr. Amarinder Kaur, first IFS woman and first woman head of the state forest department, Smt. Swaraj Grover, dedicated social servant, Dr. Surjit Kaur Sandhu and Dr. Jasjit Chhachi, a well-established Gynaecologist, Ms. Divjyot Kohli, Chief Commissioner Income-tax,Ms. Kailash Goyal, first woman PCS, Deepti Naval, a famous actor, director and writer in Indian cinema, Lacchi Bawa, noted Punjabi folk singer, Prof. Dr. Satwinderjit Kaur, Dept. of Botanical & Environmental Sciences, G.N.D. University, Amritsar.
Members
Principal-Patron
Ms. Amandeep Bhatti-President
Dr. Babita Sharma-Treasurer
Do You Have Any Admission Enquiry?
For any kind of Admission Enquiry and Registration, Don't hesitate to contact us for immediate support.