Greetings from The Principal, S.R. Government College for Women, Amritsar (GCW).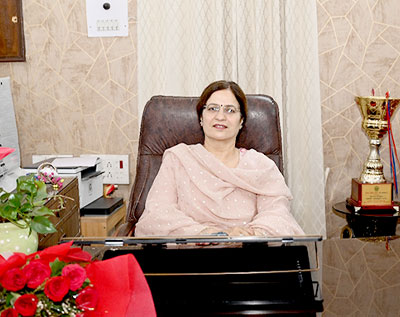 Established in the year 1932, GCW is a premier educational institution. Completing glorious 90 years, we stand committed to achieve the institutional goals and objectives, derived through our vision and the mission.
GCW is a leading learning place for women of the region. More than many times, our learners have delivered phenomenally in academics, extra-curricular and co-curricular activities. During the challenging times of the COVID-19 pandemic, this institution stood strong and demonstrated optimism. Readily adopting the online system of education, the teachers taught efficiently and displayed continuum of education.
The college has the pride of prominent rank-holders periodically excelling at both UG and PG level, from different departments. Our learners have been award winning as well, both in curriculum and extra to the curriculum. Many are placed at national and international institutions and companies. Our institution is an amalgamation of competent facilitators, providing safe and supportive environment to provide a perfect balance of academics, sports , artistic and social opportunities for our learners. This institution ensures that, during the course of study, the learners come across educative programs that enlighten, empower and enable them to compete globally. Our well qualified faculty facilitates and nurtures emotional growth with intellectual excellence being the core. Discipline, values and integrity are our foundation.
Department of Higher Education, Government of Punjab, provisions visionary leadership at S.R. Government College for Women, Amritsar.
We Welcome you and wish you The Best
Prof. Dr. Daljit Kaur
PRINCIPAL
Do You Have Any Admission Enquiry?
For any kind of Admission Enquiry and Registration, Don't hesitate to contact us for immediate support.